Music Fest On The Bayou 2021
The Bayou Natural Amphitheater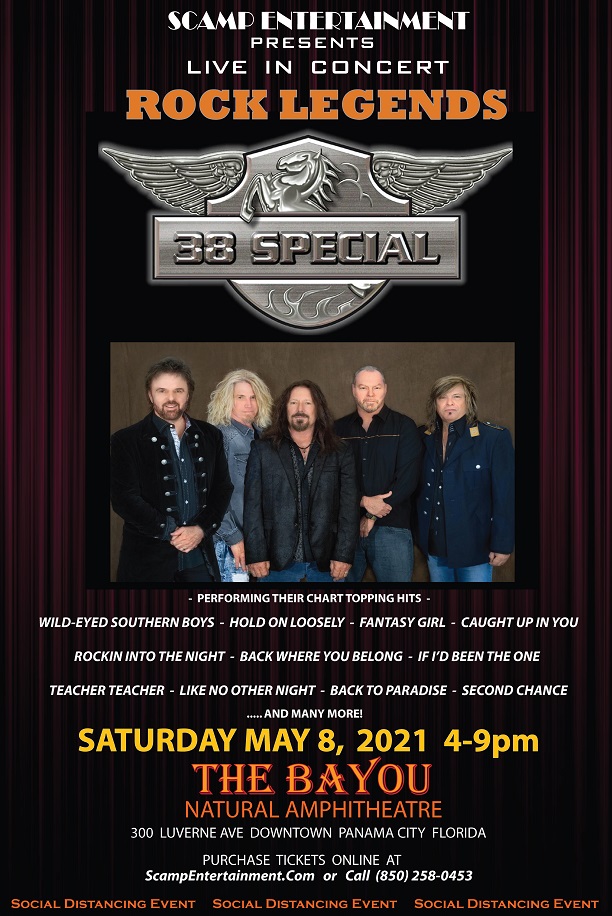 Saturday, May 8, 2021 || 4–9 PM
~ Original Date Rescheduled To May 8th Due To Severe Weather ~
After more than three decades together, 38 SPECIAL is bringing their signature blast of Southern Rock to Downtown Panama City...for the first ever Spring Music Festival! ...performing their arena-rock pop smashes, "Hold On Loosely," "Rockin' Into the Night," "Caught Up in You," "Fantasy Girl," "If I'd Been the One," "Back Where You Belong," "Chain Lightnin'," "Second Chance", and many more timeless hits that are a testament to the endurance of this legendary powerhouse.
Guitarist/vocalist DON BARNES says it's all about maintaining that intensity in their live shows. "We never wanted to be one of those bands that had maybe gotten a little soft or complacent over the years. We're a team, and it's always been kind of an unspoken rule that we don't slack up, we stack up. We go out there every night to win." It is that steely determination that lives on in the hearts of these 'Wild-Eyed Southern Boys.'
Thank you and we hope to see you there!
The Bayou Natural Amphitheater
300 Luverne Ave.
Panama City, FL. 32401
850-258-0453
BUY TICKETS
Tickets on Sale!
There are different ticket options available now - click the Buy Tickets button now for the most options!
Presented By Scamp Entertainment
A Panama City, Florida Events Company.
READ MORE